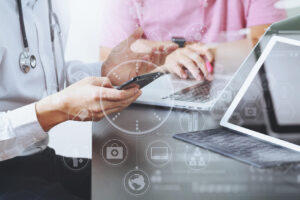 Improving workplace efficiency is about helping employees work smarter, not harder. HR professionals spend much of their everyday time and energy managing the following tasks:
Employee information
Payroll, including timesheets and paid time off (PTO) requests
Employee benefits
Technology Applications
The following are examples of how workflows can be revamped with automation and software:
Having new hires complete and sign onboarding paperwork electronically can often reduce paperwork, improve accuracy and allow stakeholders to stay informed.
Offering an employee self-service system (ESS) can allow employees to freely complete tasks such as accessing W-2s, managing benefits, submitting PTO requests, updating personal information and taking care of employment-related tasks—which can reduce the burden on HR.
Using software to manage employee information can simplify processes such as collecting employees' confidential information for retrieval at a later time while reducing the risk for errors from manual data entry.
The feasibility of implementing HR technology will be unique to each organization, but employers can consider how these initiatives can address current pain points.